Premier Williamsport Siding Contractor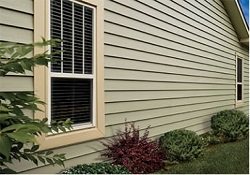 If you have lived in Maryland long enough then you know just how up and down our weather can be. The intensity of the summer heat combined with the fluctuating temperatures during the winter along with all of the rain, snow, and devastating winds will eventually start to degrade the siding to your home. Weather like this keeps your local Williamsport siding contractor busy with siding repairs and replacements, and homeowners know that they can count on Complete Builders for the highest-quality siding services
If Your Williamsport Siding Is More Than 10 Years Old You Should Have It Inspected By a Reliable Siding Contractor ASAP To Rule Out All Of The Potential Dangers!!!
The Function of Exterior Siding
Siding is used as a weatherproof barrier that provides protection and charm to the outside of your home. While the latter is not quite as important to some people, it is still a large consideration when choosing replacement siding for your home. Vinyl and polymer siding has become the perfect choice for Williamsport homeowners not just for affordability. These materials are easy to maintain and come manufactured in a wide variety of desired colors and styles which eliminates the fading and painting requirements that other siding materials have.
Vinyl And Polymer Siding Are Highly Resistant To The Maryland Elements Which Is a Very Important Part Of Weatherproofing Your Home!!!
Siding Deterioration
A homes siding will begin to deteriorate and fail over time. This can be observed as holes, cracks, warping, and fading within the siding itself. Not only does this compromise the insulation properties and energy efficiency of your siding, but it also allows entry points for moisture to penetrate your home. This can create severe issues with the most dangerous being the formation of mold. However, the knowledgeable experts at Complete Builders are able to quickly assess the problem(s) and recommend the best repair solution and siding materials needed to solve the problem.
Ignoring To Repair Or Replace Your Damaged Siding Will Increase The Energy Consumption Of Your Home And Could Cause Serious Structural Damages!!!
When you choose to replace the old siding on your home, you will be adding protection and curb appeal that will last for years to come. Our team of talented professionals loves providing our customers with exceptional siding services by using the best materials and installation techniques available. We are committed to finishing every job, whether it is big or small, with expertise and efficiency. Your complete satisfaction is our #1 goal!
Our Highly-Trained And Experienced Hagerstown Siding Contractors Can Help Every Homeowner With The Siding Needs For Their Home!!!
If your home needs replacement siding, allow our qualified team to handle it. We will custom bend each piece of siding so that it fits your home like a glove and provides your home with superior protection and curb appeal that your neighbors will envy. When you hire Complete Builders you can rest easy knowing that your new siding will be installed by a reputable crew of professionals.
CALL COMPLETE BUILDERS NOW AT (301) 491-4751